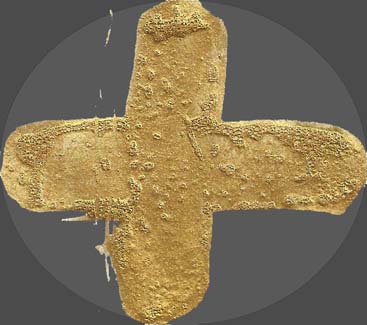 This is a small Original painting by two artists from two countries.
It's part of a series, which came into existence as follows:

"At the start of 2020, one of the artists, Jennifir Duffy from Carrickmacross, Ireland was invited over to Germany to work with the other artist, Keike Twisselmann, to work with her at her studio in Berlin. The pandemic made travelling too risky, so they decided to collaborate remotely, sending small works back and forth from Ireland to Berlin. Both their artistic styles are equally represented in their collaborative images – even though they have not worked together since 1992, this collaboration reaffirmed their old artistic bond."

Christmas is around the corner and this year it will be a quiet one to keep ourselves and our loved ones safe from harm.
So we thought, why not give each other art for Christmas?
Something very precious and easy to send to loved-ones around the globe…a gold cross parcel.
Jennifir Duffy (Carrickmacross) and myself (Berlin) have been collaborating on a series of small paintings – our work was created between both our studios in Berlin and Carrickmacross, the work in progress being sent back and forth across the sea and our result was:
a series of original works of art in watercolour and mixed media ————-
– in full head-on COLOUR abstract expressionism!!!